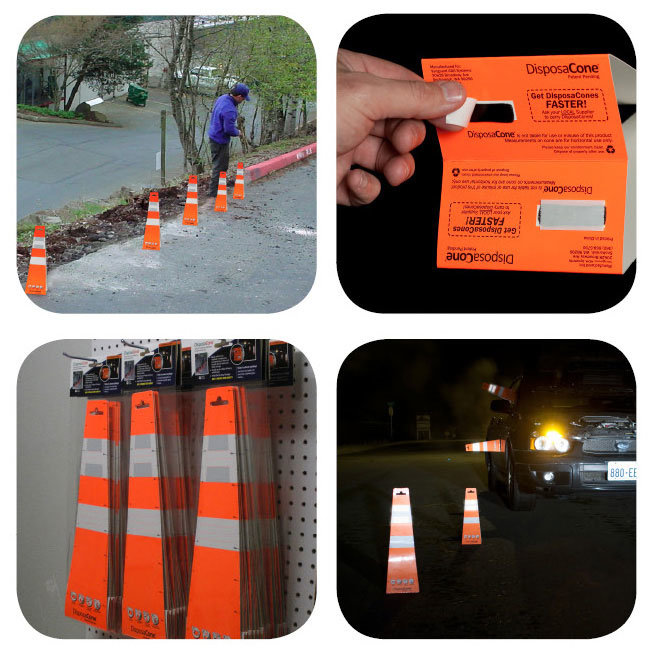 Highly Visible

Compact

Costs less than regular cones

Won't blow away

Approved under MUTCD 6i for Temporary Traffic Control

Versatile – sticks to asphalt, concrete, metal or glass

Weather resistant

Perfect for jobsite, work area, public event…

Easy to use

FREE SHIPPING to Continental US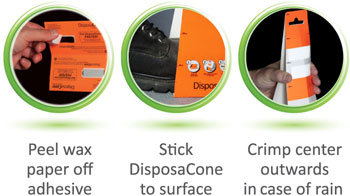 See them in action!
Every DisposaCone adheres to any clean dry hard surface, metal, glass, even painted surfaces (wet surfaces or heavy dust will affect adhesion). They can withstand wind, rain and all the normal elements. As a sustainable recyclable paper product (and the only sustainable, attachable, barricade system on Earth!), they're better for the environment than conventional cones or other barricades made from petroleum. Simply recycle with other paper products when finished.
Who Uses DisposaCones?
DisposaCone's are perfect for temporary markers, monument locators, police emergency or crime scene markers, as well as construction sites, job sites or work spaces you need to leave protected. Police and municipalities, HOA's, contractors, retail establishments, warehouses – can all benefit from Disposacone's alternative to expensive rubber traffic cones.
And, DisposaCone is approved for temporary emergency use by the MUTCD, subsection 6i!

"I really think they are a fine product!"
" I bought them for my personal use to keep in my vehicles just in case. I plan to show these to the Police Chief."  – Wayne F.
We thought it was a great idea to carry them in our patrol cars and our patrol cycle for emergency purposes. There are situations where safety cones are necessary, but not always readily accessible, and the DisposaCones fill a much needed void in the instance of an emergency situation.
Ever have the cones you put out at a scene as a police officer walk away? Or know that you will not have the opportunity to return to the scene you stopped at, and the cones never find their way back to your car? I regretfully have had both happen to me, and found an interesting product.
…we have a neat new cone idea that's perfect for RVers…These are a great thing to have if you get a flat tire or break down along the road.
The savings can really add up!
Sending production crews back at $75.00 an hour to pick up rubber cones that are going to disappear anyway, well…there's a word for that…and it ain't flattering. Now you can tell the on-site staff "this project will be ready for traffic in 6 hours" and while they're pulling your DisposaCone's for you…you're already on another job making more money!
Product
12

Regular

Reflective 18″ Cones
12 – 18″ Reflective

DisposaCones

Leave on Site
$228.00
$39.96
9 Lost Cones
$171.00
$26.97
Labor/Pickup/Fuel
$75.00
0
Total Cost
$246.00
$29.97
It actually COSTS you OVER 8 times as much to use rubber cones!!!


Wholesale, retail, or PO buy online!